I saw this great linky party that Mrs. Randall was having and wanted to join in!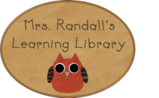 I have a great color chart that I use in my classroom! It has done wonders fro my students and their behavior in the classroom. No matter what you choose to do in your classroom, consistancy is the key. Once students know the expectations and that those expectations will not change, the kiddos will try to reach that expectation. Want to know more and snag a copy of my behavior/color chart?
Having some trouble with little ones staying engaged in their Daily 5 or Work stations?
Hope this is helpful and make sure to check in a little later for a ROYAL UPDATE...... :)